Straddling the equator, Ecuador is one of the most enchanting countries in Latin America, overflowing with natural beauty and home to proud indigenous cultures and colourful markets. While Ecuador has for many years been known primarily for the Galapagos Islands, so much more is on offer for those who decide to visit this amazing country. Mainland Ecuador can easily be split into three regions: the Amazon, the highlands and the coast. It offers wild landscapes including smouldering volcanoes, hummingbird-filled cloud forests and Amazon jungle that is home to some of the greatest biodiversity anywhere in the world. Ecuador is also, of course, the place to experience the incredible Galapagos Islands.
Ecuador also encompasses the territories of a variety of indigenous peoples, ranging from the Quechua of the Andes mountains to Amerindians living in their ancestral lands in the Amazonian rainforest. Our trips will enable you to experience the beauty of the country and meet and learn from those who call it home.
9 Days: From £1795 per person
Quito - Mountain Biking Cotopaxi Volcano NP - Banos - The Amazon - White Water Rafting - Papallacta Hotsprings
13 Days: From £1995 per person
Quito - Cloud-Forest- The Amazon Jungle - Cotopaxi & The Andes
11 Days: From £1995 per person
Quito - Amazon Jungle - Otavalo Market - Cotopaxi - Devil's Nose Train - Cuenca
8 Days: From £1495 per person
Quito - Cotopaxi Horse Riding - Mountain Biking - Chimborazo Volcano - Devil's Nose Train - Cuenca
These responsible short trips and one day tours are designed to make your holiday even more memorable! You can include them in your itinerary to help you further explore the cultural, natural and social diversity of Ecuador
Fancy Speaking to Our Local Partners?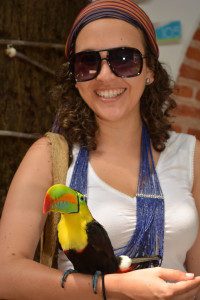 If you would like to find out more about your holiday directly from the people who will be looking after you, please feel free to contact our colleague Santiago in Quito. We work with Santiago on a daily basis and he's particularly passionate about Ecuadorian cuisine, so if you're a foodie then he's the man for you! If you would like to chat, we would happy to put you in touch.