For many, Peru defines their vision of South America. From vivid Andean textiles to Machu Picchu and the shimmering waters of Lake Titicaca, many of the country's highlights are instantly recognisable. Of course, they also attract large numbers of visitors, but we can help you escape the crowds to experience these iconic places in a different way that takes you deeper into Peru's rich history and culture.
We will introduce you to some of Peru's diverse and fascinating communities and local people that will show you the country through their eyes. We can get you cooking with Lima's best chefs, marvelling at hidden views of the Colca canyon, trying your hand at fishing in Lake Titicaca or staying with chocolate and coffee farmers along ancient Inca trails. And if that's not enough, there are also fabulous community-run lodges deep in the Amazon rainforest offering some of the most memorable cultural and wildlife experiences you will ever find.
Choose from our suggested Peru holidays below and combine with our range of experiences with a focus on responsible travel for a truly unforgettable adventure.
5 Days: From £645 per person
Cuzco - Porter Community Stay - Inca Trail – Trekking – Camping - Machu Picchu
14 Days: From £1750 per person
Colca Canyon - Community and Family Stays – Lake Titicaca – Cuzco – Sacred Valley – Chocolate Making - Machu Picchu
13 Days: From £1650 per person
Sacred Valley – Traditional Rural Life - Community Visit – Machu Picchu – Cuzco – Amazon Jungle - Birding
These responsible Peru experiences are short trips and one day tours, designed to make your holiday even more memorable! You can include them in your itinerary to help you further explore the cultural, natural and social diversity of Peru
Fancy Speaking to Our Local Partners?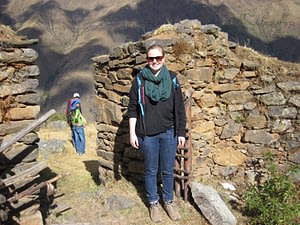 If you would like to find out more about your holiday directly from the people who will be looking after you, please feel free to contact our colleague Johanna in Cusco. We work with the wonderful Johanna on a daily basis and she will be the one helping you if you are ever lucky enough to visit Peru with us. If you would like to chat, we would happy to put you in touch.