Colombia has been off travellers' radar for a long time due to its reputation for instability and without any world-famous tourism sites, most people are unaware that it boasts an incredible 2,900km of coastline as well as three majestic mountain ranges. There really is something for everyone, from high end sophistication to rustic authenticity, with such an incredible variety of unspoiled ecosystems and cultural experiences that you could spend months travelling around and never see it all.
Nature lovers will be spoiled for choice, with snow-capped Andean mountains dropping down to pristine Amazonian rainforest, arid deserts and warm Caribbean beaches, making a home for arguably the greatest diversity of flora and fauna in Latin America. Dotting these landscapes, you'll find pre-Conquest ruins, remarkably-preserved colonial towns and lost cities that contrast with the energy of modern Colombia. It's a country where every place has its own exuberant take on life, fuelled by great coffee and eclectic music that brings together old and new, from salsa to reggaeton, in local festivals, carnivals and even flashmobs!
Choose from our suggested Colombia holidays below and combine with our range of experiences with a focus on responsible travel for a truly unforgettable adventure.
13 Days: From £1950 per person
Bogota – Amazon Jungle Ecoretreat - Boat & Canoe Tours - Birding - Hiking - Cartagena - Tayrona National Park
13 Days: From £1600 per person
Bogota - Coffee Region - Hiking - Family-Run Hacienda - Cartagena - Local Culture - Beach Time
11 Days: From £1750 per person
Bogota – Local Markets - Community Visit – Colonial Towns – Medellin - Coffee Culture – Flower and Graffiti Art - Cartagena
5 Days: From £720 per person
Trekking - Wildlife - Indigenous Communities - Nature & Wild Swimming - Ciudad Perdida
These responsible Colombia experiences are short trips and one day tours, designed to make your holiday even more memorable! You can include them in your itinerary to help you further explore the cultural, natural and social diversity of Colombia
Fancy Speaking to Our Local Partners?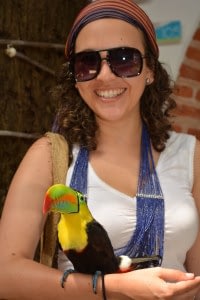 If you would like to find out more about your holiday directly from the people who will be looking after you, please feel free to contact our colleague Luisa in Bogota. We work with Luisa on a daily basis and she is so passionate about her country and people, it's inspiring! If you would like to chat, we would happy to put you in touch.