Colombia is Located North of the South America continent and is bordered to the North by the Caribbean Sea, to the east by Panama and the Pacific Ocean, to the west by Venezuela and Brazil and to the South by Ecuador and Peru. Within its borders Colombia hides 1,600km of Atlantic Coast, 1,300km of Pacific Coast and three majestic mountain ranges traversed by winding roads that connect villages and cities, cultures and races.
Explore with us and you will find dream beaches in San Andres and Islas Del Rosario and San Bernardo archipelago, and deserted ones in Tayrona national park. The Sowed peaks and Andean landscapes of El Cocuy and Los Nevados, extraordinary fauna in the Amazon Jungle and the indigenous Wayu culture in the Guajira Peninsula.
13 Days: From £1500 per person
Bogota - Amazon Jungle - Cartagena - Tayrona National Park 
13 Days: From £1600 per person
Bogota - Coffee Triangle - Cartagena - Tayrona National Park
11 Days: From £1750 per person
Bogota - Mhuysqa Community - Villa de Leyva - Medellin - Cartagena
5 Days: From £725 per person
Santa Marta - Mamey - Mutanyi - Ciudad Perdida - Mamey - Tayrona or Santa Marta
These unique short trips and one day tours could make your holiday even better! They can be added into any itinerary and are designed to help you further explore the cultural, natural and social diversity of Colombia
Fancy Speaking to a Local?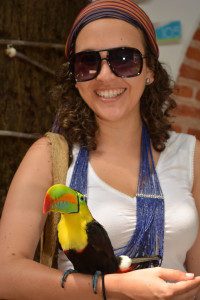 If you fancy speaking to someone living in Colombia, whether to find out more about your holiday, about life in Colombia or if you simply want to practice your Spanish, then please feel free to contact our colleague Louisa in Bogota. 
We work with Luisa on a daily basis and she is so passionate about her country and people. If you would like to chat then please let us know and we can put you in touch.