Vietnam's breathtaking landscapes, friendly people, colourful cuisine and long history must put it near the top of any traveller's list of 'must see' places in Asia. From the rugged northern mountains to emerald rice terraces and picturesque tropical beaches that hug its curvaceous coastline, its landscapes will amaze and enchant you.
The country today provides more opportunities to travel in more remote areas, while also offering a well preserved and vibrant cultural heritage to immerse yourself in. Its strong identity and proud people make it an enriching and enticing destination, where spending time conversing with the locals and sharing stories is often the highlight of any visit.
18 Days: From £1560 per person
Hanoi - Pu Luong - Trang An - Ha Long Bay - Ho Chi Minh City - Mekong Delta - Hue - Hoi An - Beach
13 Days: From £1450 per person
Hanoi - Sapa - Halong Bay - Hoi An - My Son - Hue - Ho Chi Minh City – Mekong Delta
14 Days: From £1450 per person
Hanoi - Halong Bay - Hue - Hoi An - Quy Nhon - Nha Trang - Ho Chi Minh City – Mekong Delta
These unique short trips and one day tours could make your holiday even better! They can be added into any itinerary and are designed to help you further explore the cultural, natural and social diversity of Vietnam
Fancy Speaking to a Local?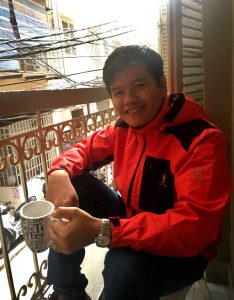 If you fancy speaking to someone living in Vietnam, whether to find out more about your holiday or about life in Vietnam, then please feel free to contact our colleague Thang (also known as Victor), in Hanoi.
We work with Victor on a daily basis, he loves creating great holidays and he's super friendly and efficient. If you would like to chat then please let us know and we can put you in touch.