For many Peru defines Latin America. From its colourful Andean cultures to the world-famous Machu Picchu or the shimmering waters of Lake Titicaca, many of Peru's highlights are instantly recognisable.
As well as the Inca world, Peru encompasses part of the Amazon basin, offering some of the best cultural and natural experiences to be found anywhere in the enormous rainforest. Although most known for its natural and historical beauty, Peru is also home to many diverse and fascinating cultures that are happy to open their doors and share their experiences with you.
Whatever type of holiday you are looking for, it's pretty likely Peru will have have something to offer you, so take a look!
5 Days: From £645 per person 
Porter Community - Inca Trail - Machu Picchu - Cusco
14 Days: From £1750 per person
Lima - Arequipa - Colca Canyon - Lake Titicaca - Cusco & Sacred Valley - Chocolate Farm - Machu Picchu 
13 Days: From £1650 per person
Lima - Arequipa - Colca Canyon - Lake Titicaca - Cusco & Sacred Valley - Machu Picchu
These responsible short trips and one day tours are designed to make your holiday even more memorable! You can include them in your itinerary to help you further explore the cultural, natural and social diversity of Peru
Fancy Speaking to Our Local Partners?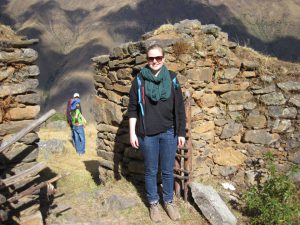 If you would like to find out more about your holiday directly from the people who will be looking after you, please feel free to contact our colleague Johanna in Cusco. We work with the wonderful Johanna on a daily basis and she will be the one helping you if you are ever lucky enough to visit Peru with us. If you would like to chat, we would happy to put you in touch.