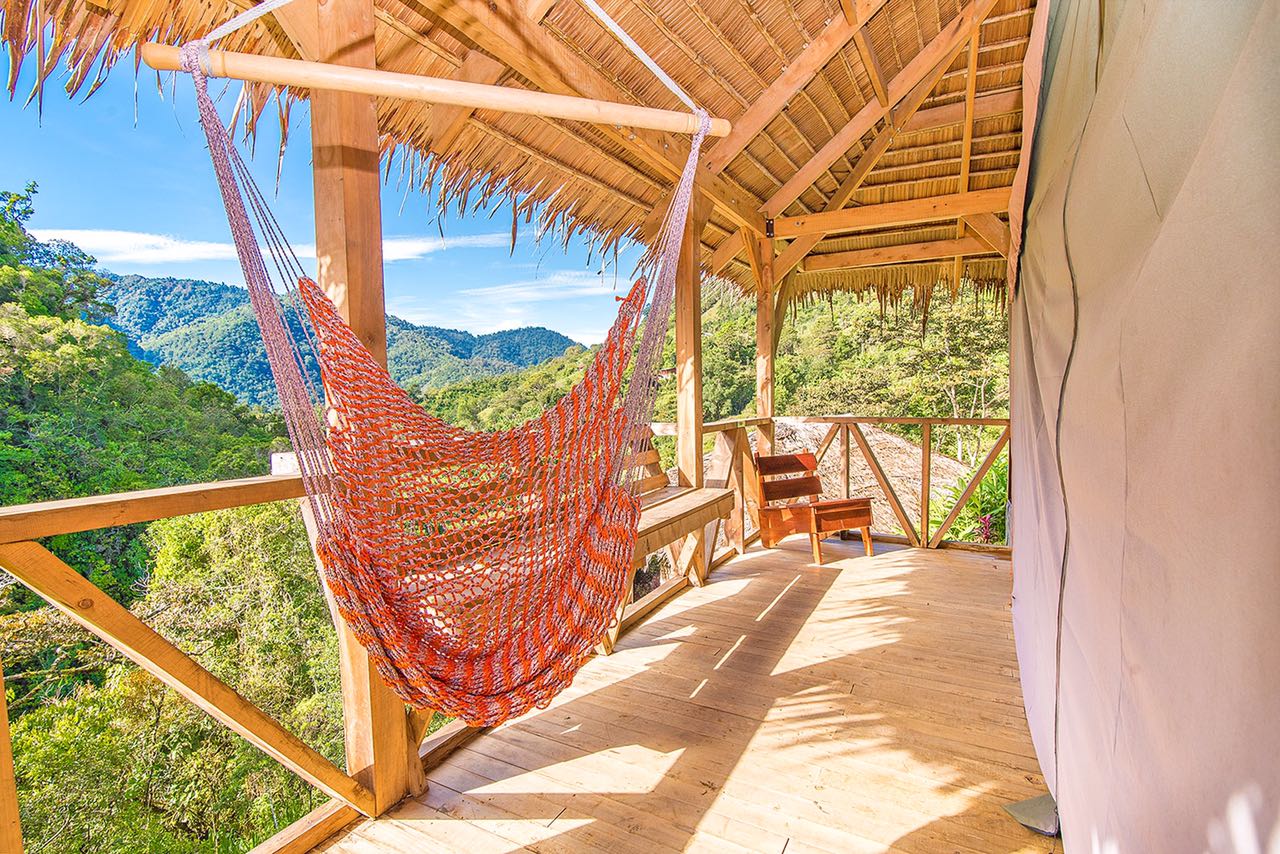 Glamping & Cloudforests
Enjoy the peace and tranquility of Tami lodge where you can immerse yourself in nature, surrounded by mountains and cloud forest. Spacious tented bungalows offer you the adventure of the outdoors whilst keeping the comfort and amenities usually reserved for a hotel stay. Surrounded by nothing but forests, wildlife and coffee plantations, Tami Lodge lies between Los Quetzales National Park and Los Santos Forest Reserve, meaning there is a plethora of wonderful experiences to be had during your stay. Get up nice and early to go in search of Quetzal families nesting nearby, experience the local community's organic coffee production and discover the hidden waterfalls that make this area of Costa Rica so magical.





Day 1: Your adventure begins as you head off the beaten track in a 4WD truck to the amazing Tamì Lodge. The next 3 nights will be spent deep in the cloud forest, in comfort and style and  surrounded by nature. (L/D)
Day 2: This morning is worth an early start. Accompanied by an expert birding guide you could find over 80 identified bird species, including the famous Quetzal and during the main viewing season from December to May you will see at least 20 to 25 different species. Add in lush flora and fauna along the way and this 2 hour tour makes the perfect combination for bird and nature lovers. The main viewpoint of the tour is renowned worldwide and considered to be the highest known gathering of Quetzales. In the afternoon explore the self guided trails around the lodge and discover some of the waterfalls hidden in the forest. (B/L/D)
Day 3: Today's BIOCOFFEE tour allows you to experience first hand the coffee production process in the best known coffee region of Costa Rica. You will visit Coopedota, one of the largest mills in the region, to see the entire process from plant to cup and meet the local people and workers who are integral to this experience.
Then you will visit a certified organic coffee plantation, whose objective is to create environmental consciousness through their tours. Here you will discover a plantation that uses modern and environmentally friendly techniques to work in harmony with the forest and avoid wasting precious resources, including water. Oh, and before we forget, you'll also enjoy a tasting of the best coffee in the world!  (B/L/D)
Day 4: A delicious breakfast followed by departure to your next destination. (B)
Los Santos Region is one of the best destinations in Costa Rica for rural community tourism. Our local partners in Costa Rica have many objectives within the communities of the Los Santos. The major goal is to transform the vision of community members and show them that there are many sustainable methods to improve their way of living, thus meeting both immediate and long-term goals. This entails community development projects such as road and classroom construction, and sustainable development projects such as permaculture farming and innovative recycling programs. Volunteers are a key element in this process, because they provide labour and financial resources to be able to undertake these projects.
Holidays That Can Include This Experience
14 Days: From £1995 per person
San Jose - Tortuguero - Savegre Cloud Forest - Manuel Antonio - La Cusinga Lodge - Osa Peninsula
14 Days: From £1995 per person
San Jose - Nacientes Palchimal - Savegre - The Bríbripa Kanèblö - Los Campesinos - Manuel Antonio