Costa Rica
This beautiful Central American country is simply a wonderland for nature lovers, famous for its staggering biodiversity. Everywhere you look you will find eye-catching colours, exotic flowers and abundant birdlife, from tiny orchids to brilliant hummingbirds. Yet it also has another often-overlooked treasure, its people, whose love for their country and its natural riches is clear in everything they do. We can help you experience another side to this enchanting country by staying at community-owned and managed reserves, thanks to our special connections to local communities.
Despite its increasingly popularity in recent years, Costa Rica has carefully managed its tourism to preserve its peaceful and environmentally-aware way of life. As a result, you will be accompanied by some of the most highly trained guides in the world as you discover jungle ecolodges only accessible by white water rafts, where toucans perch an arm's-length away, majestic forested landscapes dominated by active volcanoes and wild beaches, where the forest tumbles onto the sand and mischevious racoons investigate your towels while you swim.
14 Days: From £1995 per person
San Jose - Tortuguero - Savegre Cloud Forest - Manuel Antonio - La Cusinga Lodge - Osa Peninsula
15 Days: From £1650 per person
San Jose - Tortuguero - Arenal - Monteverde - Beach Time!
13 Days: From £1650 per person
San Jose - Monteverde Cloud Forest - Arenal Volcano - Rio Celeste - Pacific Beaches
8 Days: From £995 per person
San Jose - Tortuguero - Cahuita - Bri Bri Indegenous Community - El Copal Reserve
14 Days: From £1995 per person
San Jose - Nacientes Palchimal - Savegre - The Bríbripa Kanèblö - Los Campesinos - Manuel Antonio
These responsible short trips and one day tours are designed to make your holiday even more memorable! You can include them in your itinerary to help you further explore the cultural, natural and social diversity of Costa Rica

Glamping & Cloudforests

Volcanoes & Rafting

Hanging Bridges

Southern Caribbean

Secret Jungle Adventure
Fancy Speaking to Our Local Partners?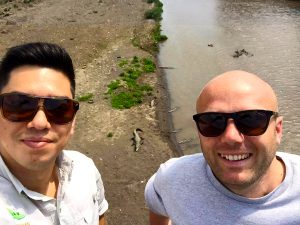 If you would like to find out more about your holiday directly from the people who will be looking after you, please feel free to contact our colleague Jefferson in San Jose. We work with Jefferson on a daily basis and he definitely makes the most of living in such a beautiful country as he seems to be off exploring somewhere new every weekend! If you would like to chat, we would happy to put you in touch.