What to bring on the Inca Trail trek:
You should only bring the necessary to enjoy the journey and it is not advisable to take what is not going to be used during the route, all this can be left in the hotel before leaving.
• A medium sized backpack, which allows you to bring all the necessary things.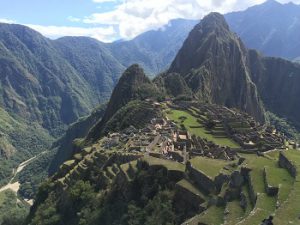 • Sleeping bag, preferably of -5 degrees at a minimum. You can also rent one in Cusco.
• Walking shoes for the trek, one pair of short and one pair of long pants, shirts, a light rain jacket, appropriate clothing for spending the night: e.g. socks, sandals, and a hat. Regarding clothing, it's quite comfortable and soothing for the body if you can change shoes, socks or wear warm clothes. It's recommended to wear light fabrics that are fast drying from sweat and/or rain. It is also recommended to take about three plastic bags so you can separate things in your backpack (clean clothes, wet, dirty and others).
• Toiletries - enough for 5 days (such as soap, toothpaste, toothbrush, and toilet paper).
• Medicines, water purifying tablets (just in case), bandages in case of scratches, or blisters.
• Flashlight with batteries.
• If you want, you can bring presents to the porter's village, such as pencils, notebooks, books, etc.
• Camera with 2 or 4 gigabytes of memory.
• Rubber-tipped walking sticks, which you can also rent in Cusco (optional).
• Sun glasses, sun block and insect repellent.
• Swimwear (for the hot springs in Aguas Calientes).
• Enough money to buy some extra drinks during the walk, to be able to give a tip to the guides, cooks and porters, to pay for your last lunch in Aguas Calientes, to pay for the entrance to the hot springs in Aguas Calientes.
What is included in the price: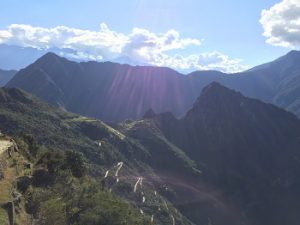 • Small Groups: Minimum 2 people Maximum 8 people
• Transportation from your hotel to the start point of the trail. We use a private, comfortable bus with all the safety accessories, and a driver with many years of experience.
• Train ticket back to Ollantaytambo or Poroy at the end of your journey (Expedition service) and private transportation from Poroy to Cusco.
• Professional guide (English-speaking) with a very good knowledge of Andean culture and trained in first aid and rescue circumstances.
• Professional chefs and porters who grew up in the countryside.
• Entrance fees to the Inca trail and Machu Picchu just the citadel.
• Waterproof, spacious tents (Voude, Eureka or Doite, each one with a capacity for 3 persons, which are used only for 2 persons), a mattress, a kitchen tent manned by a professional cooking staff, dining tent, camping chairs, and a camping table.
• Complete meals during the trip. We also provide a vegetarian option. Any special requirements for meals due to health reasons or allergies, please let us know your diet so we can coordinate this in time.
• Snacks include fruit, chocolate candies or sandwiches. We also provide our famous teatime, which includes a buffet of teas, popcorn and other delicious goodies.
• At early mornings, you will be greeted at your tent by a selection of teas, as well as soap and a bowl of warm water, with which you can take care of your personal care.
• Bus ticket (Machu Picchu - Aguas Calientes).
• First aid kit and emergency oxygen supply.
What is not included in the price:
• Sleeping bags (which can be rented in Cusco).
• Entrance fee to Huayna Picchu (S /.152 p.p.) or Machu Picchu Mountain (S/.142 p.p.). Please note that the Inca Trail permit already includes the normal entrance fee to Machu Picchu. If you wish to include Huayna or Machu Picchu Mountain, an additional ticket needs to be bought for the full price.
• Lunch on the last day (we could arrange a boxed lunch for USD 17 per person).
• Visit to the thermal baths in Aguas Calientes (S/.10 per person).
• Tips for your guide and staff are much appreciated.
• Personal expenses.
• Extra porters to carry extra personal belongings.