Cambodia receives far fewer tourists than some of its neighbours, yet it offers spectacular white sand beaches, ancient temples and some of the friendliest and most welcoming people anywhere in the world.
It has long been famous for the breath-taking 'lost city' of Angkor Wat and justifiably so, as it ranks with the Great Wall of China or Taj Mahal as one of the modern wonders of the world. Angkor represents the full flowering of the genius of the Khmer civilisation and the sight of the sun rising over its spires is one that will not leave you in a hurry. But Cambodia has much more to offer, from dolphin-spotting in the mighty Mekhong River to visiting remote hill tribe villages or just enjoying the gentle pace of life and soaking up the sun next to warm crystal-clear seas.
So don't delay - now is the time to see this unspoilt and alluring gem of Southeast Asia!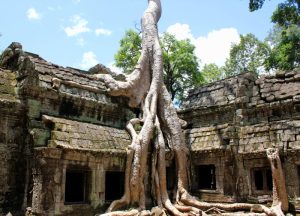 Temples and the Sea
11 Days: From £995 per person
Angkor Wat - Koh Trong Community - River Dolphins - Phnom Penh - Kep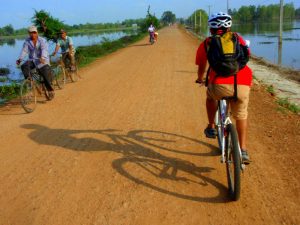 Bike Around Cambodia
13 Days: From £1325 per person
Siem Reap - Kampong Thom - Phnom Penh - Takeo - Kampot - Sihanoukville
Mekong River Cruise
3 Days: From £455 per person
Siem Reap - Kampong Chanang - Phnom Penh (or vice versa)
Fancy Speaking to a Local?
If you fancy speaking to someone living in Cambodia, whether to find out more about your holiday or about life in Cambodia, then please feel free to contact our colleague Vannak in Phnom Penh.
We work with Vannak on a daily basis and he definitely makes the most of living in such a beautiful country and if you are into cycling then he will be even more happy to hear from you! If you would like to chat then please contact him at: info@asia-adventures.com.
0203 475 4799      Info@beyondtourism.co.uk